A Centennial Celebration of Sisters in Service Founders' Day Celebration
Sat, February 6, 2021
(8:00 AM - 11:00 AM)
EST
Description
The Epsilon Omega Chapter of Alpha Kappa Alpha Sorority, Inc. cordially invites you to attend our Founders' Day Celebration.
About this Event
Join Epsilon Omega as we kick-off 2021 with a Centennial Celebration of Sisters in Service. This is our Centennial Year and we have committed to support all of the Maryland HBCU's (Bowie State, Morgan, UMES and Coppin).
Target 1: HBCU for Life: A Call to Action
Consider a monetary donation to support HBCUs and be seated at one or more of the following Virtual Tables:
$25 – Silver
$50 – Golden
$65 – Pearl
$75 – Diamond
$100 – Centennial
$500 – Donor
$1000 and up – Sponsor
All donations support HBCUs, Ivy & Pearls for Excellence, Inc. (the charitable arm of Epsilon Omega Chapter), its scholarships and programs of service.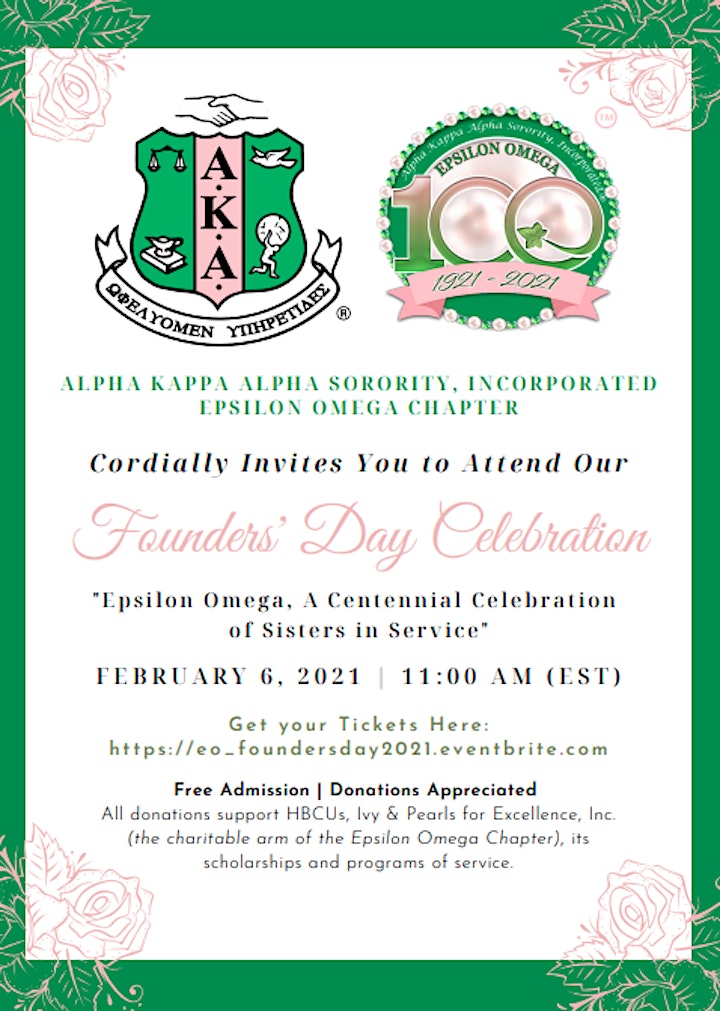 Event Calendar
Saturday, February 6, 2021